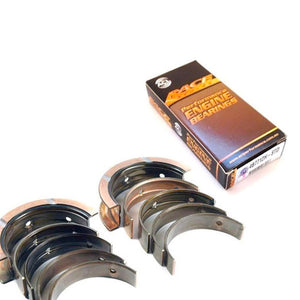 acl
ACL main bearings F4r F4rt F7r
ACL Race Series 'Main' Bearing shell set. (Crankshaft)

A must for any serious performance engine build.

Features include:-

•High strength overlay plate with reduced thickness for improved fatigue properties.
•Hardened steel backs on all rod bearings to improve the support of the bearing lining and assist with bearing retention in the housing.
•Increased crush for improved bearing retention.
•Elimination of flash plating on the back of the bearings to improve heat transfer through the bearings and to maximize the grip between the bearings and its housing.
•Increased eccentricity to compensate for bore distortion at high rpm and to assist in the formation of hydrodynamic oil films.
•3/4 grooved Main Bearings to optimize bearing load carrying surface area and oil flow to the con-rod bearings.
•Tight consistent wall tolerances to help you maintain consistent clearances.
•Enlarged ID chamfers on bearing edges where required to accommodate large fillet radius on performance crankshafts.

These bearings locate around the main crankshaft journals.