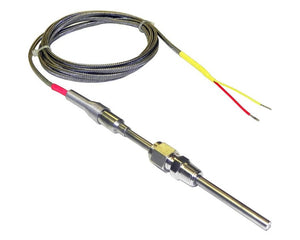 Ecumaster
Exhaust gas temperature sensor Ecumaster EGT
Professional EGT probe.
This sensor is designed to measure exhaust gas temperatures up to 1,300°C. Thermocouples are temperature sensors, which generates a small temperature corresponding voltage, due to their thermo electrical behaviour, without any additional external energy. The mantle thermocouple has a metal mantle which includes two inner wires made of thermo material (NiCr-Ni). The wires are isolated. The main feature and benefit of this sensor is a very quick response time, the combination of high quality production part and robust design with INCONEL sheath for long life and reliability.
Small diameter tip for fast response and six mm fitting diameter to avoid vibration damage make this product suitable for truly professional applications.
Supplied with compression fitting.
The diameter of the probe is 3mm, the length of the cable in the metal braid is 2 meters.
Mounting adapter with M10x1 thread is included.