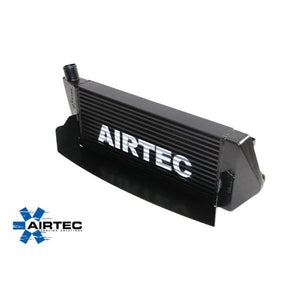 airtec
Megane 225/R26 Airtec intercooler 70mm
Airtec Performance Intercooler to suit all models of the Megane 2 RS 225 & 230

Having fitted and tested various brands of intercooler we have to say that the Airtec items tick all the boxes. Excellent fitment, less pressure drop and most importantly excellent cooling capacity. Another great feature is the use of the 'Air Ram' scoops welded to the cooler to direct more of the airflow through the core. We have used these intercoolers in house up to 350 BHP and they're certainly not at the limit there.

With charge air temps starting to sky rocket on tuned cars with STD coolers, this performance intercooler is an important step to prevent the cars electronics (ECU) from cutting back the performance and up hold the power and torque that the car has been tuned to produce. Keep Cooler with an Airtec!

Available in both Black and Silver finish with optional 'AIRTEC' Logo. See options.

** Please note that we attempt to hold in stock only the Black version without the logo. There may be a delay in delivery if you choose from the other options, however we will inform you once the order is received or alternatively you can contact us for a lead time **

Q) Is this the 70mm or 95mm intercooler?
A) This is the 70mm Intercooler, although our testing has proven that it is efficient enough for most applications. Disadvantages of the 95mm version are less airflow to the radiator and a very slight decrease in turbo response. However we can supply the 95mm Intercooler if required, please contact us.