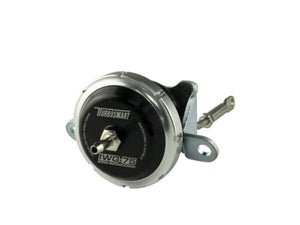 turbosmart
Megane RS Turbosmart Uprated Turbo Actuator
Turbosmart Uprated Turbo Actuator to replace factory item.
An adjustable direct replacement for the original unit which improves boost control by preventing the waste gate from blowing open. This is a common issue when using a tired actuator or requesting more boost at higher engine RPM. Also when combined with an ECU tune there is less demand needed from the factory N75 valve (Boost Solenoid) so you can run less duty.
The Actuator comes fitted with a lift spring tension of 7 psi, this means that without any pre-load the actuator rod will start to move (open) around 7 psi of boost pressure. For reference a standard factory Megane 2 RS actuator has 4 psi and Megane 3 RS actuator has around 7psi of lift pressure. Please note that lift pressure can be increased by adding more pre-load when installing the unit. We do offer additional springs to increase tension and to make it easier we have put a rough guide below.
Up to 320 BHP (7 psi lift pressure)
Up to 350 BHP (10 psi lift pressure)*
Over 350 BHP (14 psi lift pressure)*
Spring pressures over 7 psi are additional springs supplied. The additional spring will need installing to achieve quoted pressure.
* We always advise a custom ECU tune to re calibrate the factory electronic boost controller (N75 valve duty). Failure to do this may cause the engine to over boost, go into limp mode and in a worse case cause engine damage. *