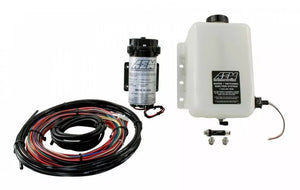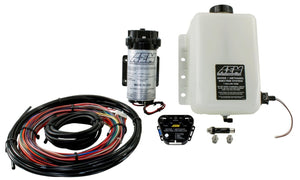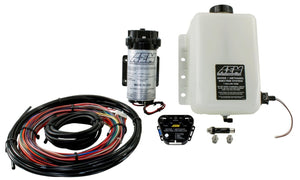 Sebimotorsport
Methanol AEM Electronics V2 KIT
AEM 30-3350 V2 Water/Methanol Injection Kit, Multi Input Controller 0-5v
Water/Methanol for All Boost Levels of Forced Induction Gas Race Engines
AEM offers two different water/methanol controller designs for gas vehicles:
One is boost dependent for forced induction vehicles up to 35 PSI of boost (kit PN 30-3300). The Boost Dependent controller has an on-board manifold absolute pressure (MAP) sensor with a molded-in nipple for a boost hose pickup.
The second controller (Kit PN 30-3350) features a multiple input design that enables users to install AEM's Water/Methanol Injection Kit on ultra-high boost vehicles (above 35 PSI) using a 0-5v voltage-based external MAP sensor.