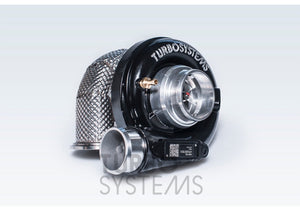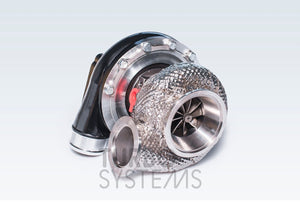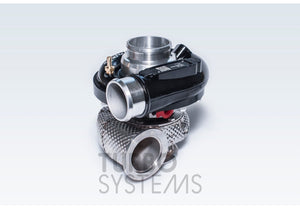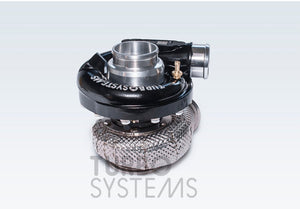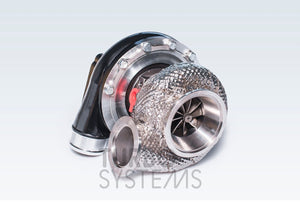 Sebimotorsport
Turbo systems htx3057 b2v 500hp
Same specifications as HTX3057B2 only turbine flange is replaced with 2.25" V-band connection. 
High performance turbocharger designed for heavy loads and high temperature. Two compressor side air outlet choices - 90° and straight for easier connection. Dual ceramic ball bearing and machined from solid aluminium compressor wheel makes it durable and efficient solution for motorsport use.
Power range: 400-500+ HP;
This turbocharger comes with 2 V-band sets (for turbine flange and exhaust).
Compressor side:
Ported shroud compressor housing;
Compressor wheel: in-house made, reinforced 57/71 mm 9+0 blades machined from the solid aluminium;
Intake: 

Straight compressor housing - 63mm;
(2,5")Compressor housing with 90° elbow - 76mm (3");

Air outlet: 51mm (2");
Core:
Bearings: dual ceramic ball bearings;
Cooling: water cooling with 2 x M14x1.5 ports;
Lubrication: AN4 oil inlet with integrated oil restrictor;
Turbine side:
Housing: single scroll , 10cm2 AR: 0.73;
Turbine wheel: custom design 60/55mm 9 blades
Flange: 2.25" V-band single scroll;
Exhaust connection: 3" V-band clamp;